So Bre has a new doll, and I'm honestly not too happy about it. She's been talking about getting this doll since before she even got me (or so I hear). But I thought she might have changed her mind. But no. Grrrr.... A while back she tells all us dolls that a new doll will be coming to stay here. "She's modern too," she says to me, Quinn, and Nicki. They got all excited and started asking a million questions and wondering what she'd be like. But I wasn't as excited.

And then she got here... and she's.... pretty. And all the other dolls like her. Her name is Taylor. She's really pretty. She lives down the street from me, and she goes to private school. She's a #25.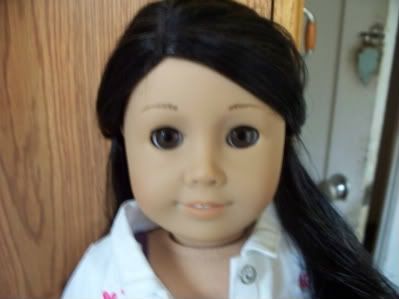 Bre's been brushing her hair a lot and trying all sorts of different outfits on her. She keeps saying how pretty she is, and that she gets cuter every time she looks at her. Give me a break! I'm sure she's a cool person and all, but I don't understand why she has to live here. Wasn't one JLY enough?

Bre trotted us all out the other day for a group shot with Haley. She didn't give me and Nicki a chance to change out of our pajamas before she took the picture. But look at Taylor... smiling, all dressed up. Ugh!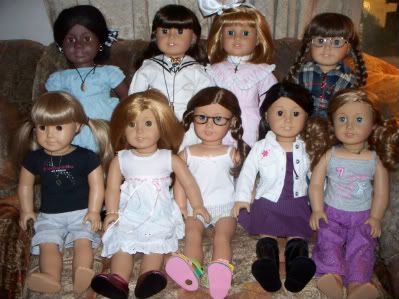 I know I'm being a little irrational. I guess none of this is Taylor's fault, but that doesn't make it any easier to take.

Until next time,
Wendy (Angela Moira Darling) Stein XOXO

P.S. Kit, if you're reading this, Haley wanted me to tell you hello, and make sure you pass that along to all her other buds who are still around.