Hello, all! Josefina thanks you all for the good vibes you sent her way in LMPT. She had a photo session the other day and got two rounds out of the way. She's feeling (more or less) positive about it! =)
Anyways, I'm happy to report to you all that a package came today, and in it was a present for Felicity! I'm NOT a big dress fan, but her's are very pretty anyways. Miss Lissie squealed when she saw that inside the package was her Town Fair gown!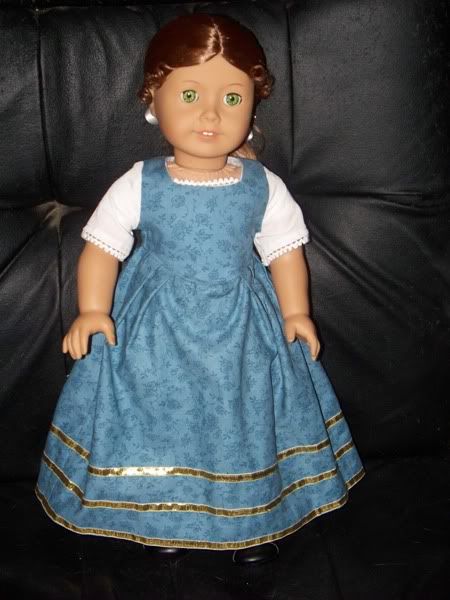 Well, it's a replica of the gown sewn especially for Bre to give to Felicity. She commissioned it from the amazingly talented Terrie of
All Dolled Up
. (If you haven't checked out her beautiful and affordable work, you're missing out!) This dress is just gorgeous. Lissie is so happy to have something new to wear, and also happy to have a pretty new mob cap (since she only has two and they don't coordinate well with everything).
For fun, Lissie went out with Addy and they modeled their straw hats. =)
And in other (me related) news, I'm in
The Doll Wardrobe's photo contest
! It'd really help me out if you'd consider voting for me! I'm photo 11, and the information on how to vote is on the link above. Thanks!