As promised, I'm here to introduce you to Bre's pet project: the Baby-Sitters Club! We all adore the books (Bre grew up on them as much as AG) and she had been on a mad spell of re-reading the books. At a certain point, she decided she wanted BSC dolls. They actually made real BSC dolls in the 90s (which Bre wanted so badly at the time) but although they're 18 inches, they aren't proportioned like AG. So, that began the project we're going to show you today. I had planned to wait until I have Kristy (and probably Dawn) as well to show them, but due to finances, that will probably not be for a LOOOONG while.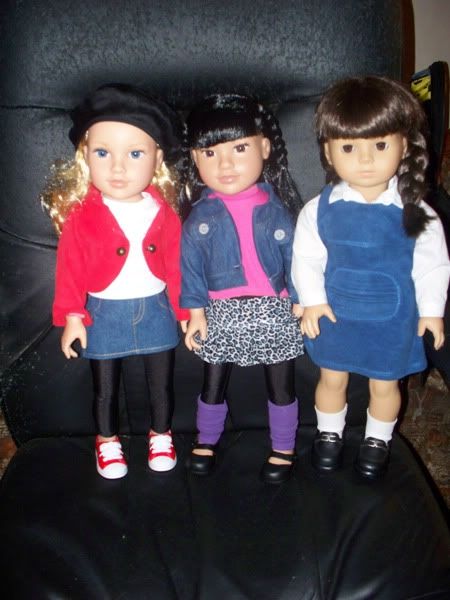 L to R: Stacey, Claudia, Mary Anne
Stacey: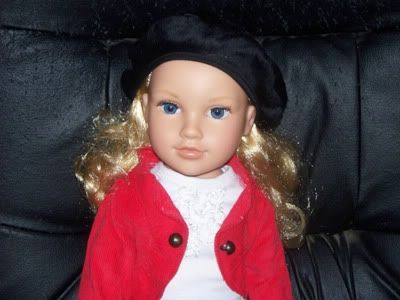 Anastacia Elizabeth McGill, 12 years old. Born and raised in New York City, recently transplanted in Stoneybrook, CT. Diabetic. BSC treasurer. Sophisticated. Cool dresser. Boy crazy.
Stacey is a Journey Girls Meredith doll from Toys R us.
Claudia:
Claudia Lynn Kishi, 12 years old. Lifelong Stoneybrook resident. Talented artist, Nancy Drew fan, poor student. VP of the BSC (she has her own phoneline!).
Claudia is a Journey Girls Callie from TRU.
Mary Anne:
Mary Anne Spier, 12 years old. Another lifelong Stoneybrook resident. Very shy, overprotected child of a widowed father. Very neat and sensitive. Forced to wear her hair in two braids and wear outfits picked by her father. Secretary of the BSC.
Mary Anne is a Gotz Little Sister Tess.